Printer-friendly version
Send by email
Smart Phone Apps Series to Help Maximize Land's Productivity, Protect Resources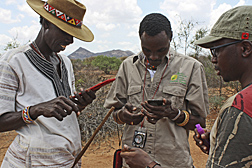 By Jan Suszkiw, May 29, 2015
Global Soil, Land-Cover and Climate Information Available
WASHINGTON, May 29, 2015—What do "cloud computing" and "terra firma" have in common? A suite of mobile phone applications ("apps") that, once all are released, will connect agricultural producers around the world and provide them with shared knowledge on ways to maximize the land's productivity while protecting its resources for future generations. 
The first two apps, dubbed "LandInfo" and "LandCover," were released this month and will allow anyone using the mobile phone technology to collect and share soil and land-cover information as well as gain access to global climate data, said Jeff Herrick, a U.S. Department of Agriculture (USDA) scientist. He and cooperators developed the apps as part of a five-year, multi-organization project called the "Land Potential Knowledge System" (LandPKS).
---
Old Cow, New Tricks
Story by Alisa Opar, March 2015, onEarth Earthwire Magazine
Desert-friendly cattle that came over with Columbus might be better bovines for the drought-plagued West.  In the remote reaches of Mexico's Copper Canyon, miles from the nearest road or settlement, a moving speck on a steep rock wall caught Alfredo Gonzalez's eye. "I thought, that couldn't be a cow, maybe a goat," the longtime ranch manager and animal scientist. "The canyon goes straight up and down. But when we looked with binoculars, there they were: Criollos walking on the canyon walls."  Read more ...
---
Criollo on the Jornada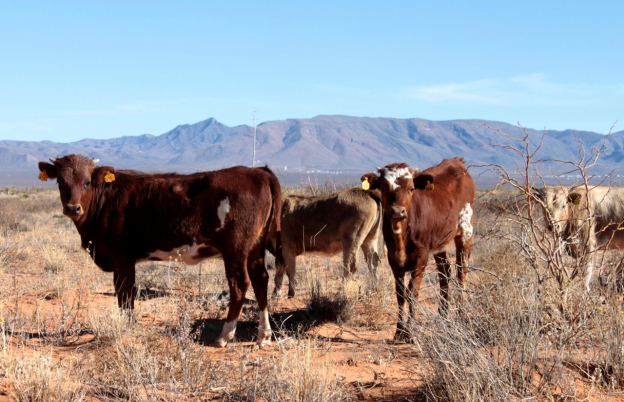 Interview - Here & Now's Peter O'Dowd speaks with Alfredo Gonzalez, February 10, 2015
---
The desert-friendly cow - A rancher and a researcher search for a better bovine — and think they've found one.
Story by Cally Carswell, Nov. 10, 2014, High Country News
In his younger days, Alfredo Gonzalez ran large ranches in Brazil and Paraguay. Cattle drives involved fording rivers and navigating swamplands and tropical forests. "It was a big show," he recalls, beaming as he speeds a feed truck down a sandy, sun-baked road in the Chihuahuan Desert on a warm morning. He loved spending weeks on horseback, drinking dirty water. It was a cowboy fantasy come to life. "It was funnn," Gonzalez croons. Read more ...
---
U.S. Department of Agriculture UAS Monitors Plant Growth Cycles in New Mexico
Story by Emily C. Kelley (ekelley@nmsu.edu) posted on the UAS Vision website at http://www.uasvision.com/2014/03/31/u-s-department-of-agriculture-uas-monitors-plant-growth-cycles-in-new-mexico/?utm_source=Newsletter&utm_medium=email&utm_campaign=385b97dfbc-RSS_EMAIL_CAMPAIGN&utm_term=0_799756aeb7-385b97dfbc-297549825
---
Drones Used for Jornada Range Research
By Emily C. Kelley (ekelley@nmsu.edu)
A small group of researchers and technicians recently gathered on a dirt airstrip at the U.S. Department of Agriculture Jornada Experimental Range to launch a Bat 4 unmanned aircraft on a mission, flying through both military restricted airspace and the National Airspace System. "We do rangeland monitoring, and it's a way to gauge rangeland health to see how the plants are doing over the course of the year," said Connie Maxwell, USDA biological science technician and New Mexico State University affiliated faculty member. This specific flight is one of a series that will monitor plant growth cycles for a USDA scientist studying vegetation response to climate. The scientist selects the flight dates in conjunction with satellite over-flights to compare the images. "We were doing an imagery flight," Maxwell said. "We have several sites out on the Jornada that we do repeat imagery on. This was a baseline flight for the year, before things start growing. In a couple of months, we'll go back and do the same flights we did that day and see the green of the vegetation out there, and then later on in the year, we'll see peak times, we'll catch peak biomass, then at the end of the year when the plants start dying."  Read more ...
---
Las Cruces Sun News (Staff and Wire Reports) - Obama administration announces 'climate hub' in Las Cruces - New center based at Jornada Range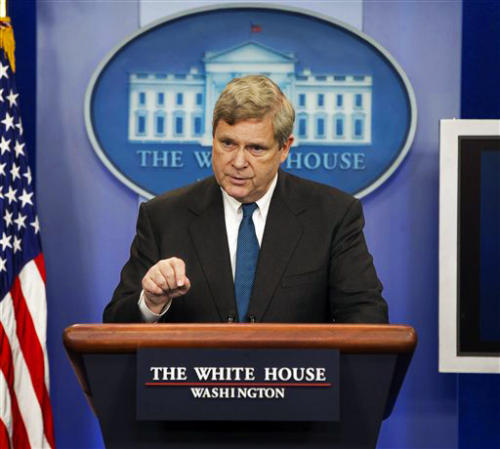 WASHINGTON >> Climate change is already hurting American farmers and rural residents, Agriculture Secretary Tom Vilsack said Wednesday, warning the United States would regret any failure to adapt and prepare for shifting weather realities.
Unveiling a new effort to coordinate the government's response, Vilsack said extreme weather events have already taken the nation by surprise, putting ranchers and others out of business. He pointed to the intensity and frequency of recent storms, long droughts, snowstorms and subzero weather as evidence that climate change is no longer hypothetical or in the future.
Read more ...