2015 AIM Training

February 23-27, 2015; Agua Fria National Monument, near Black Canyon, AZ

April 20-24, 2015; Reno, NV (AIM/IIRH aka IMIRH combined training)

May 18-22, 2015; Canyonlands Research Center near Monticello, UT

The Bureau of Land Management (BLM) in partnership with the USDA-ARS Jornada Experimental Range will host three training events in 2015 for the BLM's Assessment, Inventory, and Monitoring (AIM) program. Each training will provide participants with the framework and skills to implement a monitoring program which is consistent with the AIM Strategy. Participants will receive training in core monitoring concepts, plot characterization techniques, data collection protocols, and data management practices. In addition, each training will include one break-out session divided into two sections. The first section is designed for data collectors and will focus on perfecting data collection techniques and crew calibration. The second section, targeted to natural resource specialists, will include discussions of project design, project management and implementation, and data analysis and interpretation. Prior to each class, participants will be asked to complete 1-4 hours of coursework to minimize time spent in the classroom during the training.

 

There is no cost to attend these courses. Each course can accommodate 50 participants, 40 of these spots are reserved for BLM employees. Additional training courses may be added depending on need and interest.

Register for these trainings here: http://dev.landscapetoolbox.org/training/registration/

For additional information, contact: Contact Emily Kachergis (ekachergis@blm.gov) or Sarah McCord (smccord@nmsu.edu).
Since 2006, the Jornada has partnered with the Bureau of Land Management (BLM) to develop and implement the Assessment, Inventory, and Monitoring (AIM) Strategy for all BLM lands. The AIM strategy began with an Office of Management and Budget review that recommended BLM streamline their monitoring programs to focus on the status and trend of core indicators at multiple levels across the 245 million acres of BLM-administered lands in the United States. The Jornada's role in the development and implementation of AIM includes leading selection of the core indicators and methods for measuring them, developing guidance and tools for statistically-valid monitoring programs, conducting AIM field crews, developing tools for the electronic capture and analysis of monitoring data, and supporting individual AIM projects.
Jornada and BLM Resources for AIM: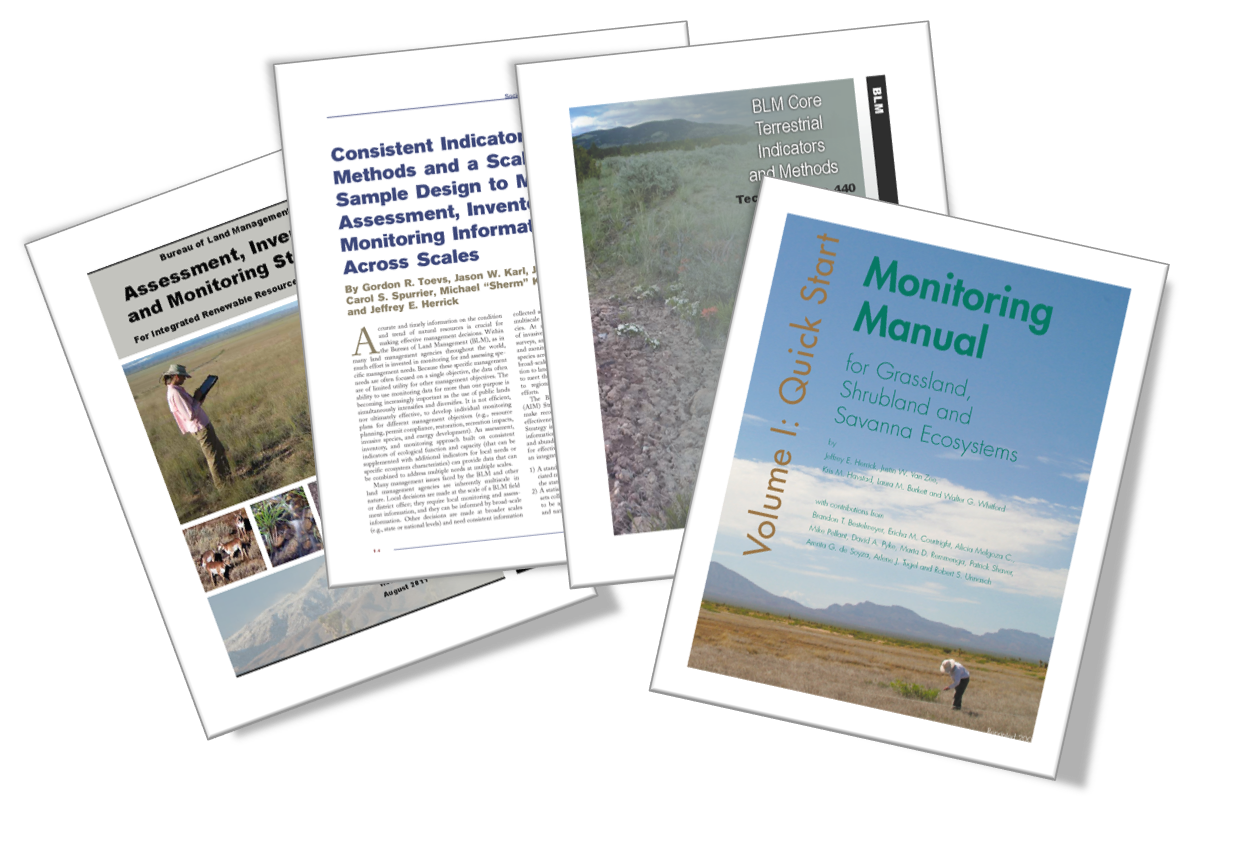 The Jornada is actively involved with each of the five primary elements of AIM-Monitoring:
A structured implementation framework built on management questions and conceptual models of ecosystem structure and function. The framework consists of multiple steps.

AIM-Monitoring follows a structured implementation framework.  Each effort begins by collecting background information, including what is known about the ecosystem, critical management questions, and regulatory requirements.  Conceptual models  assist with this step by displaying our current understanding of key ecosystem processes.  Next, monitoring objectives, indicators, and activities are planned and implemented over the long-term.  Periodic analysis and reporting of monitoring data inform an iterative process of adaptive management, by which land managers learn from and adjust their management actions. Sound data management, including detailed records, quality assurance/quality control, and storing data in a national geospatial infrastructure, are key components of this framework.

Collectively, AIM-Monitoring information provides a basis for land managers to adaptively manage resources, improve understanding of the ecosystem, and adjust monitoring efforts as necessary using a well-documented and consistent approach.

Standard Quantitative Indicators and Methods - Field-based core and contingent indicators address three key attributes of ecosystem sustainability:  biotic integrity, soil/site stability, and hydrologic function. These broadly applicable indicators were selected following a nationwide, inter-disciplinary review of BLM monitoring efforts and are relevant across resource management programs and ecosystems.  A fourth key attribute, landscape integrity, was added because of the importance of spatial landscape characteristics to wildlife habitat needs and ecosystem sustainability. These four key attributes, along with their associated terrestrial and aquatic core indicators,will always be measured when an AIM-Monitoring design is deployed, regardless of the program or management area where monitoring data are being collected. Contingent and/or supplemental indicators are measured when necessary to address specific local, regional, or national resource needs or objectives.

AIM-Monitoring establishes standardized methods for collecting data necessary to derive the core and contingent indicators of ecosystem sustainability. These core and contingent monitoring methods were selected because they are objective, repeatable with minimal observer bias, easy to implement, well documented, and widely used. Further, these methods reflect the knowledge and experience of scientists, rangeland managers, and ecologists from many different agencies and institutions.

Scalable Sampling Design - AIM-Monitoring indicators were selected to inform management questions at multiple scales. A scalable monitoring design allows information to be collected by local resource managers to meet local management needs and to be combined with data collected elsewhere to address broader, landscape-scale, and national reporting needs. Scalability requires not only consistent indicators and methods, but also a statistically valid sample design with a known inference space.

Integration of Remote Sensing Monitoring Technologies - The AIM Strategy and AIM-Monitoring emphasize the importance of using remote sensing as a monitoring tool to improve monitoring efficiency. Field data provide precise, statistically valid measures of resource status and trend with a known inference space. By taking advantage of recent advances in remote sensing science, traditional field renewable resource measures (consistent with the AIM core indicators) can be collected using very-high-resolution, 3-dimensional remote sensing imagery. Optimizing the integration of field and remote efforts will reduce the number of field samples needed to detect resource changes, focus data collection efforts in areas experiencing high levels of change, and collect data in isolated locations that are difficult to access.

Data Management - The AIM Strategy implements standard data collection and storage so that information is readily accessed, aggregated and shared.  This is accomplished through electronic, onsite data capture and centralized data management through BLM's national geospatial infrastructure.
Links to BLM's webpages describing the AIM project -
Field crews learning about ecological site identification at training The Jornada hosted at The Nature Conservancy's Canyonlands Research Center outside of Canyonlands National Park in Utah for the BLM's Assessment, Inventory, and Monitoring program.